Disinfection Vehicle
---
Disinfection Challenges
Coronavirus disease (COVID-19) is an infectious disease caused by a newly discovered coronavirus.
Most people infected with the COVID-19 virus will experience mild to moderate respiratory illness and recover without requiring special treatment. Older people, and those with underlying medical problems like cardiovascular disease, diabetes, chronic respiratory disease, and cancer are more likely to develop serious illness. The best way to prevent and slow down transmission is be well informed about the COVID-19 virus, the disease it causes and how it spreads. Protect yourself and others from infection by washing your hands or using an alcohol based rub frequently and not touching your face. At this time, there are no specific vaccines or treatments for COVID-19. However, there are many ongoing clinical trials evaluating potential treatments. WHO will continue to provide updated information as soon as clinical findings become available.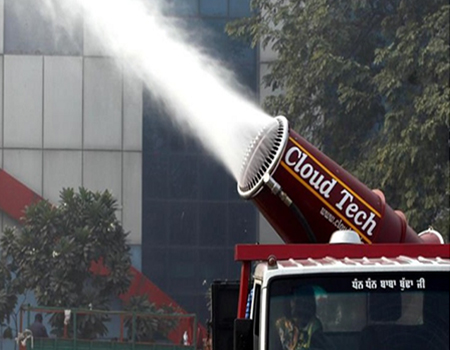 Interim Infection Prevention and control Recommendations for 2019 Novel Coronavirus (2019-nCov) in a Healthcare Setting Ensure that "Environmental cleaning and disinfection procedures are followed consistently".
"Major challenge comes with outdoors and larger areas disinfection procedures. Cloud Tech has developed a Multipurpose Disinfection Vehicle which easily disinfect outdoors, colonies, communities, public places, factory areas, urban sanitation, hospitals etc".
Benefits of Multi Purpose Disinfection Vehicle
---
Disinfection vehicle is a specialized tool for disinfection of epidemic- containment and potentially contaminated areas (epidemic areas); it has become an important technical means to stop the spread of virus. The use of disinfection vehicle can greatly improve the disinfection and virus killing effect in a large area, greatly improve the disinfection efficiency and evenly disinfect, effectively blocking the virus transmission.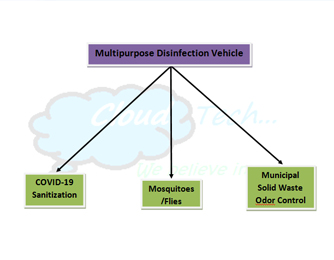 Product Details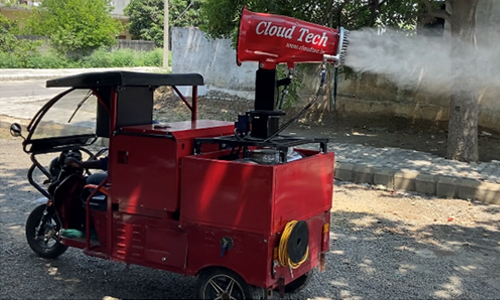 (E-Rikshaw Mounted) Multi Purpose Disinfection Vehicle
| | |
| --- | --- |
| Model | CTFC15M |
| Water Tank Capacity | 150 Liters |
| Vehicle | Battery operated, GVW: 700 kg, Wheel base: 2100 mm, Motor power: 1000 watt |
| Water Tank MOC | Stainless steel |
| Water consumption | 8 LPM |
| Throw | 15 mtrs |
| Water Particle Size | 10- 30 Microns |
| Cannon Rotation | 300 deg Automatically |
| Cannon Vertical Movement | -10 to 45 deg Automatically |
| Power generator | Petrol, 3KVA |
| Spray Hose | 10 mtrs with spray nozzle |
| Control Panel | Remote control from drivers cabin |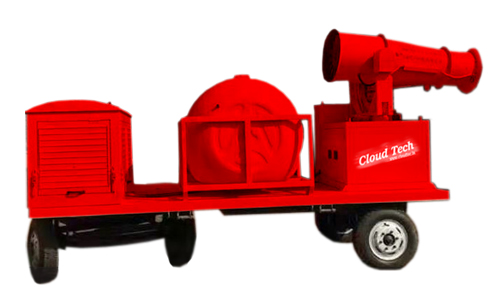 (Trolley Mounted) Multi Purpose Disinfection Vehicle
| | |
| --- | --- |
| Model | CTFC25T |
| Water Tank Capacity | 1000 |
| Vehicle | Trolley to be pulled by tractor or vehicle |
| Water Tank MOC | Mild Steel |
| Water consumption | 20 LPM |
| Throw | 25-30 mtrs |
| Water Particle Size | 100- 50 Microns |
| Cannon Rotation | 300 deg Automatically |
| Cannon Vertical Movement | -10 to 45 deg Automatically |
| Power generator | 5 KVA petrol |
| Spray Hose | 10 mtrs with spray nozzle |
| Control Panel | Mounted on trolley |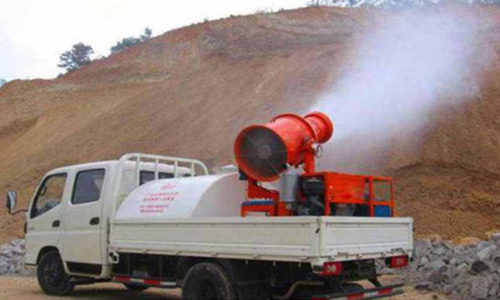 (Mini Truck Mounted) Multi Purpose Disinfection Vehicle
| | |
| --- | --- |
| Model | CTFC25M |
| Water Tank Capacity | 750 |
| Vehicle | 1200 kg Payload |
| Water Tank MOC | Mild Steel |
| Water consumption | 20 LPM |
| Throw | 25- 30 mtrs |
| Water Particle Size | 100- 50 Microns |
| Cannon Rotation | 300 deg Automatically |
| Cannon Vertical Movement | -10 to 45 deg Automatically |
| Power generator | 5 KA Petrol |
| Spray Hose | 10 mtrs with spray nozzle |
| Control Panel | Control form drivers cabin |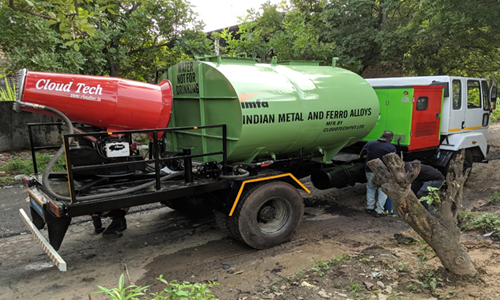 (Truck Mounted) Multi Purpose Disinfection Vehicle
| | |
| --- | --- |
| Model | CTFC30 & CTFC50 |
| Water Tank Capacity | 8000 |
| Vehicle | 19 T GVW |
| Water Tank MOC | Mild Steel |
| Water consumption | 30 LPM &70 LPM |
| Throw | 30 mtrs & 50 mtrs |
| Water Particle Size | 100- 50 Microns |
| Cannon Rotation | 300 deg Automatically |
| Cannon Vertical Movement | -10 to 45 deg Automatically |
| Power generator | 20 KVA & 30 KVA DG set |
| Spray Hose | 10 mtrs with spray nozzle |
| Control Panel | Wireless remote control |