Truck Mounted Disinfection Machine
---
About
E-Rickshaw Mounted Disinfection Machine
Regular cleaning of any buildings, public places and open areas as well as disinfecting products effectively eliminate the bacteria, germs as well as deadly coronavirus. So, cleanliness and disinfection of places with confirmed or suspected COVID-19 have become mandatory. But disinfection of open areas such as parks, markets, etc. is difficult to reduce pollutants and reduce the spread of the virus. In fact, a major challenge comes with larger places and outdoor disinfection procedures.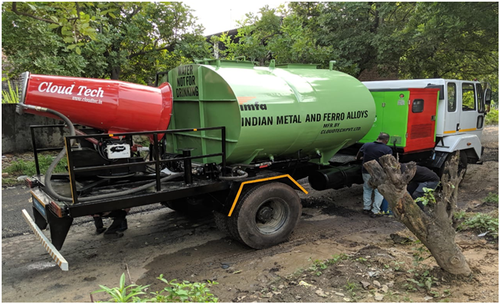 Air pollution and viruses are among the greatest scourges. They are not only impacting climate change, but also public and individual health. Pollutants like Particulate Matter (PM), particles of variables have become a prime reason for diseases in humans. These particles of very small diameter penetrate our respiratory system via inhalation and cause several respiratory-related diseases. So, killing and eliminating pollutants, bacteria, germs, and deadly coronavirus by cleaning and disinfecting buildings, public places and open areas or products has become essential.
Cloud Tech has introduced an easy-to-use, moveable and highly sophisticated mobile disinfection machine or we can say Vehicle Mounted Disinfection Machine. These machines are designed to disinfect outdoors, colonies, public places, communities, factory areas, hospitals, urban sanitation, etc. Cleaning and disinfecting a place with confirmed or suspected COVID-19 variants by using our truck-mounted or e-rickshaw Mounted Disinfection Machine is quiet and hassle-free. Even an unprofessional can use the machine effectively. These machines are ideal for disinfecting and eliminating bacteria, coronavirus, and pollutants in parks, markets, shopping complexes, sports grounds, roads, streets, thereby preventing the spread of deadly coronavirus omicron.
Our range of disinfection machines
Vehicle Mounted Disinfection Machine
Truck Mounted Disinfection Machine
E-Rickshaw Mounted Disinfection Machine
Mobile disinfection machine
Benefits of Vehicle Mounted Disinfection Machine
Vehicle Mounted Disinfection Machine is specially designed for disinfecting epidemic- containment and potentially contaminated areas as well as blocking dreadful bacteria transmission. By using this mobile disinfection machine, the operator remains protected as they do not come in contact with chemicals or viruses. Also, there is no chance of contamination in the liquid used for disinfection. Reasonably priced, these truck or E-Rickshaw Mounted Disinfection Machines are the best options for alcohol-based sanitizers.
Manufacturing of Disinfection Machine at Cloud Tech
Cloud Tech Vehicle Mounted Disinfection Machine is a perfect choice to disinfect large areas. Backed by highly experienced and knowledgeable professionals, we manufacture these machines using top-grade raw materials that are sourced from trusted vendors in the country. The machines are engineered using modern technologies in our ultramodern manufacturing facilities. The quality control team inspects the design, quality and finish of products on defined parameters during and after the manufacturing process. All our manufacturing plants are well equipped with sophisticated tools and machinery to make high-quality machines.
Above all, technical experts and engineers at Cloud Tech always remain ahead of advanced manufacturing techniques and designs. They ensure to develop flawless and quality products. Their expertise in the manufacturing process and use of technologies enable Cloud Tech to manufacture and supply highly reliable, well-performing and guaranteed Vehicle Mounted Disinfection Machines.
Know more about our vehicle-mounted disinfection machines by talking to experts at 9582379005 or 8930345768.
As a leading name in the industry, Cloud Tec offers these advanced machines at the lowest price. These machines allow people to easily disinfect outdoors, colonies, public places, communities, factory areas, hospitals, urban sanitation, etc.
Vehicle mounted disinfection machine | Mobile disinfection machine | Truck mounted disinfection machine | E-rickshaw mounted disinfection machine